A little background info on our guesthouse "Na Letním bytě"
Introduction
The guesthouse was opened in 2017 in a newly constructed building on the original foundations of a 15th century house. The guesthouse is right next to our restaurant-cafe Jenom tak..., located in the Czech Heritage site of Kouřim. The restaurant and guesthouse are connected by a garden, where you can find a restaurant lounge serving breakfast when the weather is nice.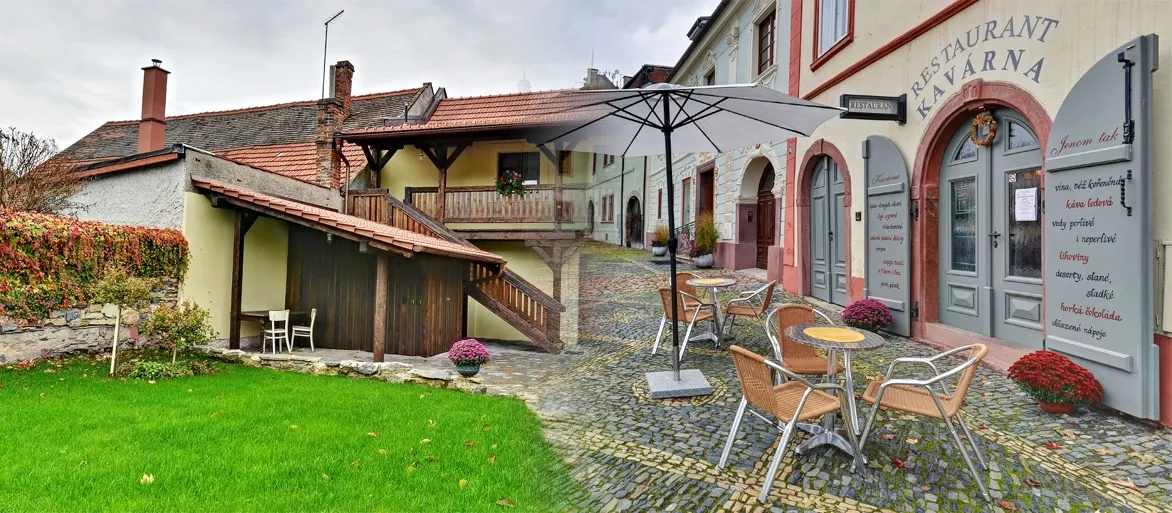 Our offer
Above all, we offer our guests comfortable accommodation in a quiet area without traffic in stylishly furnished rooms evoking the relaxing countryside atmosphere of the First Czechoslovak Republic. Besides the accommodation our guests can use the Finnish sauna or kick back in the detached garden house. Our guesthouse lies at the heart of the historical center of Kouřim, so it is an ideal place to see the sights of the city and the entire region.
A few tips on what to visit can be found in the Why Visit Us section. If you don't feel like being out and about, our guesthouse offers all the comforts also for quiet or romantic moments. Enjoy the peace and quiet in the tranquility of our garden. In the high season, we also offer the possibility of eating in our restaurant Jenom tak...
Rooms
The total capacity of the guesthouse is 19 beds. Six rooms are doubles, one quadruple and one triple. The rooms on the ground floor have wheelchair access, one of which is completely wheelchair accessible. All rooms have an en suite bathroom with toilet and are styled with restored antique furniture, a minibar and a kettle with coffee and tea.
Beds 90x200 cm and 80x200 cm which have pocket mattresses, quality bedding and bed linen - all from Czech manufacturers. Free Wi-Fi is available throughout the property. Rooms can be viewed in the gallery. Each room is equipped with air conditioning.
Lounge
A separate building with a capacity of up to 30 people in the garden of the guesthouse serves as a lounge with the possibility of using both the restaurant and guesthouse for family celebrations, weddings, parties and corporate events. You can see the lounge in our gallery.